Madness has corrupted Innistrad. Since we returned to this world, we have been wondering what was causing all this destruction… It was Emrakul! The last and the greatest Eldrazi Titan who was summoned by Nahiri. Now it's our time to follow the lead of Jace and Tamiyo and become the heroes who will save Innistrad from complete destruction!
Join us for prerelease events on July 16 and 17. Why? Because prerelease is one of the most wonderful things in Magic! Not only you get to play with the newest cards, but you also get to see all your friends, make new ones, explore fresh sealed format and have a lot of fun! It is the time when all players gather together and enjoy the game to its fullest 🙂
In 't Lab we are organizing 6 prerelease events: single sealed events at 11:00 and 17:00, and 2HG sealed events at 17:00. And we are happy to inform you that each event after the first one you play is just €20! Stand up for Innistrad and defeat Emrakul!
Starting time: 17:00
Format: Sealed (Swiss, 4 rounds: you will be able to play in each round)
Participation fee: €25; each other one you play after the first one is €20!
Prizes
2 booster packs of Eldritch Moon per player in the prize pool.
Food
You can bring your own food. There are also drinks and snacks available in the store.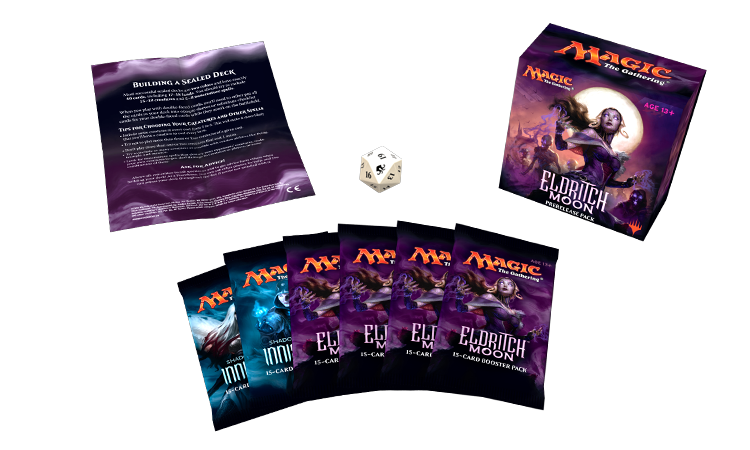 Each player will receive this beautiful prerelease pack which contains 2 Shadows over Innistrad booster packs, 4 Eldritch Moon booster packs, 1 premium foil stamped card (drawn from any rare or mythic rare in the set), 1 foil double-faced Zombie token, 1 Spindown Life Counter and 1 deckbuilding advice insert. You will construct a deck of at least 40 cards and then explore the format battling against other mages (max. 4 rounds of Swiss, you will be able to play in each round). More information about Sealed format.
If you have any questions, don't hesitate to drop by, send us an email or message on Facebook. We will see you at the Prerelease!